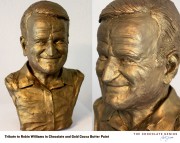 Online gallery of custom created edible art will launch September 10th, World Suicide Prevention Day in Williams' honor hosted by Depressed Cake Shop.
Santa Monica, CA, September 10, 2015 (Newswire.com) - ​Sugar artists are often inspired to lend their talents to cake collaborations — a tradition in the world of sugar art — by a cause, an event or a personality.
Robin Williams, someone who delighted the world with his talent and his generosity, was chosen by Mary Tomczak, Laura Peterson and Jane Reyes in order to celebrate his life.
"I was so upset when Robin Williams passed away," says co-organizer Laura Peterson.  "I saw a man who gave everything to bring joy to people's lives.  He was an alien, a Genie, a doctor, a lawyer.. even a woman.  I decided to put this collaboration together to showcase the legacy of laughter he left us and also, by aligning with Depressed Cake Shop, to let anyone who needs help know that they should reach out and ask for it.  Together we will celebrate an unforgettable life and help as many people as we can along the way."
These collaborations are true labors of love.  Each baker designs and creates a piece at their own expense.  The only payment is the pleasure of sharing their art, and in this case, creating a gallery of beautiful work to remind people that often our brightest and best artists, family members and friends are quietly suffering behind their smiles.
The bakers hail from six countries and  24 cities. Each chose a film from Williams' canon as their inspiration.  Artist Paul Joachim sculpted Williams' bust, using 30 pounds of chocolate. (photo attached)
The Depressed Cake Shop, a world wide grass roots organization that is committed to changing the conversation around mental health has partnered with these bakers to promote this collaboration.  Founded in 2013, the Depressed Cake Shop has raised over $60,000 for local charities working in mental health by selling gray baked goods at pop up shops around the world.
San Franciscan Jane Reyes, one of "Legacy of Laughter's" organizers brought the first Depressed Cake Shop to America.
"Some days I wake up in a cloud  and I can't turn my head without a bolt of anxiety ." says Reyes, explaining her involvement with DCS. "One particularly difficult day, I needed something—but what? I went to the kitchen.  Why am I so sad? I need a cup of butter. When will I feel better? I need 2 cups of sugar. Is this genetic? Did it come from my mom or dad?  Before I know it I'm focusing on something and the lightning seems to be gone.
I'm not worthless.  I'm constructive.  This is where the Depressed Cake Shop was born, on  a 'cloudy' day.
Robin Williams had one of those days and we all wish we could have reached into his cloud and pulled him out. We wish we could have reflected back the sunshine he shined on us.
The Depressed Cake Shop is providing spaces free of stigma for people who are struggling.
Creating these sugar sculptures we were full of joy and tears; joy at being able to hold  his face in our hands and show our love through our work, and tears because we miss him so much and because we know his pain."
"The Legacy of Laughter collaboration came together on a wing and a prayer," says co-organizer Mary Tomaczek. 'We are thrilled that so many amazing artists agreed to join the cause and lend their talent and time, including some of the stars of the cake world. People like Lizzo Marek, Reva Alexander, and Paul Joachim, who have been featured on television and in magazines for their edible art, were enthusiastic participants."
For many of of us this journey was personal, because we have or know someone with mental illness. It is often said that laughter is the best medicine, and Robin Williams left a legacy of laughter for all of us.  I can't think of a better way to honor him then trying to help others who suffer."
The International Association for Suicide Prevention (IASP), in collaboration with the World Health Organization (WHO) and the World Federation for Mental Health, is hosting World Suicide Prevention Day on September 10th, 2015. This year's theme is "Preventing Suicide: Reaching Out and Saving Lives," and will focus on raising awareness that suicide is a major preventable cause of premature death on a global level. Governments need to develop policy frameworks for national suicide prevention strategies. At the local level, policy statements and research outcomes need to be translated into prevention programs and activities in communities.
To access the gallery on September 10th:  www.depressedcakeshop.com  or www.legacyoflaughter.org
For anyone in crisis:
1 (800) 273-8255
National Suicide Prevention Lifeline
Hours: 24 hours, 7 days a week
Languages: English, Spanish
For media inquires please contact:
Valerie Van Galder
val@depressedcakeshop.com
310-890-1942
Share: