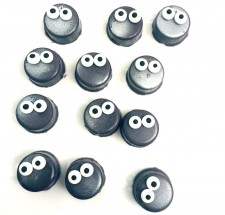 The Depressed Cake Shop Pop Up raises money and awareness for mental health issues; this deliciously fashionable one-time event will feature a curated photo gallery by the Broken Light Collective, a limited edition t-shirt created by Wear Your Label and baked goods by local artisans.
Santa Monica, CA, May 4, 2016 (Newswire.com) - "​​​​​​International sensation Depressed Cake Shop will sell gray cakes to raise funds for St. Joseph Center in Venice," announced  Depressed Cake Shop's Valerie Van Galder. "The Depressed Cake Shop believes that mental health issues will be more effectively managed when there is an open dialogue and that is what we are working to create."  Our gray cakes are a visual metaphor for the cloud that can descend during a depressive episode. The energy and community created at our shops have proved transformative for the organizers as well as our customers."
The pop up shop will host a gallery opening with cake, photography, music, t-shirts and wine on May 6th from 7-10 p.m. and will be open May 7th at 10:00am at Streetcraft LA (2912 Main St.).
 Money raised will be used to support the St. Joseph Center's Mental Health Initiatives.
About The Depressed Caked Shop
Established in 2013 in the United Kingdom, the Depressed Cake Shop has raised over $100,000 for charities around the world by local bakers to donate gray baked goods. The project has received global press attention, and continues to grow through social media and the numerous press mentions the project has had, in outlets like Time Magazine, the Huffington Post, Vice, and Oprah Magazine.
About St. Joseph Center
Since 1976, St. Joseph Center is a 501(c)(3) nonprofit organization that assists people without regard for religious affiliation or lack thereof through comprehensive case management and mental health services and integrated social service programs. St. Joseph Center serves more than 6,000 individuals annually.
About Wear Your Label
Wear Your Label sparked as a small idea: clothing to create conversations about mental health. We wanted to encourage individuals to take ownership over their mental health, rather than fear the labels that so often define us. What started as a side project  began to make international headlines: fashion tackling the stigma of mental illness. Today, we unite tens of thousands of people. And we're giving back along the way. It's an whirlwind of a journey - and the only reason we hope it ever ends, is when stigma does.
About Broken Light Collective  
Photography by artists affected by mental illness from around the world curated by Danielle Hark.
www.depressedcakeshop.com | www.facebook.com/depressedcakeshop
Instagram: @depressedcakeshop / Twitter: @depressedcake​
Source: Depressed Cake Shop
Share: