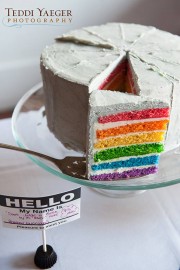 The Depressed Cake Shop, a pop up concept that raises money and awareness for mental health issues, will be open in Orange County on August 15th from 10:00 a.m. to 5:00 p.m at WAYFARE HQ in Costa Mesa. Customers will be able to buy beautiful baked goods donated by local merchants and enjoy a pop up shop featuring candles, home goods, jewelry and clothing. All proceeds will be donated to MHA.
Costa Mesa, CA, August 11, 2015 (Newswire.com) - ​International sensation comes to Costa Mesa and will sell gray cakes to raise funds for Mental Health Association of Orange County.
The Depressed Cake Shop is proud to announce its first pop up in Orange County on August 15th from 10:00 a.m. – 5:00 p.m. at WAYFARE HQ, 270 Baker St. E, #200, Costa Mesa.
"Where there is cake there is hope, and there is always cake"

Valerie Van Galder, Depressed Cake Shop media lead
"One in four people suffers from mental illness, and the Depressed Cake Shop, a worldwide grass roots collective, was established to raise awareness of this important health issue by selling gray cakes at pop-up shops around the world," says Depressed Cake Shop's Valerie Van Galder.
Established in 2013 in the United Kingdom, the Depressed Cake Shop has raised over $70,000 for charities around the world by engaging local bakers to donate and sell gray baked goods. The project has received press attention around the world, and continues to grow as the message spreads through social media and the numerous press mentions the project has had, in outlets like Time Magazine, the Huffington Post, Vice, and Oprah Magazine.
Melissa Larob, of KML Events, contacted DCS after reading about the project and she is the organizer of Orange County's first pop-up.
"When I first heard about the Depressed Cake Shop and their gray cakes I wondered how sweetness and the sadness that gray represents could be interwoven," says Larob "Gray like an overcast day with no sunlight. Gray like the combination of all colors which actually muddies them all, gray like depression. That's when I understood that gray was symbolic of what depression does. It takes all that is good and dims it. It makes you feel alone, weird, unloved and unwanted. I decided to get involved because talking about our weirdness makes us feel connected and tears down the wall of stigma. It takes the load off your shoulders for just a little big. So you can carry on. Breathe. Get help. Live life."
The symptoms of depression can be complex – and vary widely – and so do our cakes, many of them visually represent mental illness and are donated by bakers who have had personal experience with these issues, who use baking as a way of expressing their struggles with, and experiences of, their illness.
The Depressed Cake shop is a collective of food artists, mental health advocates and event organizers who are committed to changing the conversation around mental health, one gray cake at a time. Find us on social media:
www.facebook.com/depressedcakeshop
https://twitter.com/depressedcake
https://instagram.com/depressedcakeshop/
https://www.pinterest.com/DepressedCakes/baked-made-by-our-members/
The Mental Health Association of Orange County (MHA) is dedicated to improving the quality of life of Orange County residents impacted by mental illness through direct service, education, advocacy and information dissemination.
MHA provides all of its services in a supportive environment within the context of a psychosocial rehabilitation philosophy, with wellness and recovery the goal. This client-centered approach emphasizes wellness rather than illness, resulting in effective life management, empowerment, independence, self-sufficiency, and community re-integration – regaining dignity and dreams.
Contact
Valerie van Galder/ val@depressedcakeshop.com
Email
info@depressedcakeshop.com
Website
www.Facebook.com/depressedcakeshop​
Share: